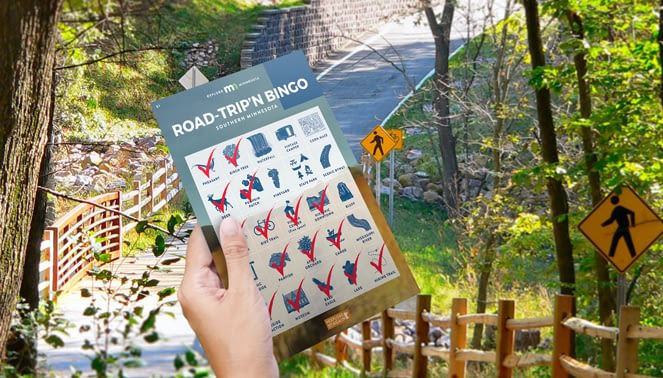 Our partners at Explore MN Tourism put together this "Road Trip'n Bingo" activity to add a little color to your fall adventure!
Turn in your completed Bingo Card with photos to receive a free gift from Visit Fairmont! To be eligible, you must have photos with at least 10 of the 16 squares available in Martin County. (Listed Below)
Find these 16 Southern MN bingo squares in Martin County:

APPLE ORCHARD
Enjoy a fall classic at Center Creek Orchard or Timberlake Orchard.
Center Creek Orchard | Timberlake Orchard
---
BALD EAGLE
Be on the lookout for America's Bird at any of our Area Parks. (Hint: Amber Lake Park is considered a hot spot for Bald Eagle activity)
---
BIKE TRAIL
Take a leisurely ride through the city of lakes on our network of Bike Trails.
---
BIRCH TREE
Spot the unmistakable bark of a Birch Tree at Sylvania Park. Don't worry, they don't bite!
---
CANOE
Look for canoeing enthusiasts on any of our Five Lakes. If all else fails, you can always take a peek inside Dunham's Sports.
Fairmont Lake Locator | Dunham's Sports
---
DEER
Find the graceful whitetail roaming throughout any of our beautiful County Parks.
---
HIKING TRAIL
Explore the great outdoors with ease on Cedar Creek Park's paved or primitive hiking trails.
---
HISTORIC DOWNTOWN
Take a stroll through the classic buildings at Fairmont's Downtown Plaza. You'll marvel at Historic Gems like the Fairmont Opera House, Historic Post Office and Martin County Courthouse.
---
LAKE
Get a perfect view of our lakes at one of our lakeside Dining Establishments like the Channel Inn or the Marina Lodge.
---
MUSEUM
Get lost in local history. The Pioneer Museum may be only three stories tall, but it tells thousands of stories of the people, places and events of Southern Minnesota's past.
Martin County Historical Society
---
PANFISH
There are plenty of panfish to be found in our local lakes, you just have to know Where to Look.
---
PHEASANT
Hunters can spot some ringnecks on the 4,700+ acres of WMAs, WPAs and WIAs in Martin County. Not the orange and camo type? Go for a drive down our country roads and rustle up some ditch chickens.
Public Hunting Land in Martin County
---
PONTOON
You can't miss the pontoons from the floating bridge on the Hobo Camp Trail. Or check the channels that link our lakes for a passing pontoon.
---
PUMPKIN PATCH
Pick a pumpkin from the patch at Martin Count's own Center Creek Orchard.
---
ROADSIDE ATTRACTION
When it comes to roadside attractions, our neighbors lay claim to some GIANT bragging rights! Check out the 55-foot Jolly Green Giant just down the road in Blue Earth, MN.
---
VISITOR CENTER
Once you've snapped some photos for your Southern MN Bingo, stop by our office at 323 E. Blue Earth Ave and claim your free Swag Bag, courtesy of Visit Fairmont!